It emits an amber-hued glow through the light and, in Chinese, it is known by the most lyrical moniker—some call it "the tears of peach blossom"—and its nutritional content is as rich as its appearance. It is peach gum, surfacing on diners' radar in recent years for the large amount of collagen it contains.


What Is Peach Gum?
Peach gum is the resin from peach and Chinese wild peach trees, already solidified when it is found. As detailed in classical Chinese medical literature, its curative qualities include solving urinal infections, quenching thirst and relieving stress.
Not only used frequently by doctors of Traditional Chinese Medicine, peach gum is also a natural and healthy food rich in amino acid, which allows collagen to be quickly absorbed into the human body. This makes many people fall in love with it, and many recipes featuring peach gum have been devised since then. From soups and cooked dishes to desserts, this gemstone-lookalike is a delight to both our palate and our skin.
Peach gum is the resin from peach and Chinese wild peach trees.
Satisfying the Sweet Tooth
Peach gum is best enjoyed in sweet soups and desserts. Regardless of time or location, it's a guaranteed remedy for sweetening the day. In addition to its wonderful taste, sweet soup made with peach gum boasts a great deal of nutritional benefits. The simple preparation process adds to its universal appeal—the peach gum is first soaked and double-boiled. After that, you may add ingredients of your preference ranging from milk and sago pudding to papaya and snow ear mushrooms.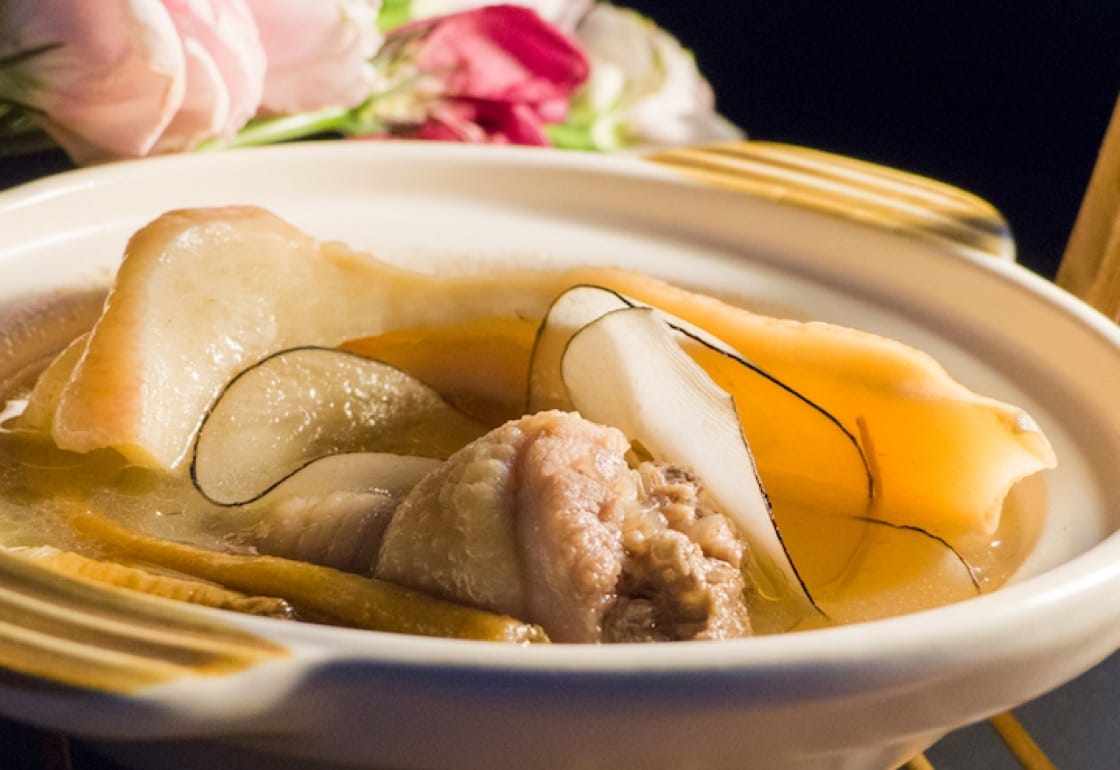 Peach gum soup has healing properties for our stomach and skin.
A Combination of Nutrition and Flavor
With a slew of nutrients and smooth texture, many home cooks are beginning to add peach gum to their daily cooking ritual. Braised pork belly with peach gum is a quotidian dish in China's Zhejiang province. As soon as the belly is cooked, add the peach gum and braise for another 15 minutes. The result is a tasty and wholesome dish for dinner.

Another way of cooking peach gum is adding it to stir-fries with tofu or salted vegetables. The bouncy and tender resin will give your everyday dishes an extra dimension.


A New Healthy Option
For many Asians, soup is a mainstay at the dinner table. And for many of these soups—the most common ones containing chicken and pork rib—an additional dose of peach gum supposedly goes a long way in helping us stay young and beautiful.

Soften the peach gum beforehand by soaking it in clean water. Once the impurities are gone, it can be cooked together with other ingredients. The natural resin is beneficial to both our stomach and our skin. (No wonder it's billed as the new darling for soup-brewing.)

---
This article was written by Joe Chan and translated by Vincent Leung. Click here to read the original version of this story.