The sustainability of our food chains is more important than ever – and when it comes to following a farm-to-table philosophy, Michelin Starred restaurants are leading from the front.

Seasonal, ingredient-led menus are a done deal when you've got your own farm or kitchen garden, and this connection between field and plate not only reduces food miles and wastage, but also ensures peak freshness of the ingredients, meaning that they are high in nutrients and full of flavour.

Here are ten of the Michelin Inspectors' favourites:

John's House, Leicestershire
One Michelin Star

The 4,000 acre Duffin family farm in Mountsorrel plays host to a 16C farmhouse – where the eponymous John was born and now cooks – along with a shop, a café, a petting farm and a motor museum. It's a real family affair, with his parents, brother and sister all involved. Cooking doesn't get more farm to plate than this, with the surrounding fields supplying most of the ingredients, from herbs, vegetables and fruits to lamb, pork and beef. Butchery takes place on-site and they use every part of the animal; rare breeds are a feature and include Leicester Longwool sheep and Gloucester Old Spot and Tamworth pigs. This talented chef has a great appreciation for his ingredients and knows what it takes to get the best out of them.

John's House, Leicestershire
L'Enclume, Cumbria
Two Michelin Stars
Also: Roganic – One Michelin Star; Rogan & Co – One Michelin Star

Simon Rogan's 12 acre working farm in the Lake District is designed by chefs for chefs and is dedicated to providing fruits, vegetables and herbs as well as chickens, ducks, pigs, sheep and cattle for his various UK restaurants. It's a sustainable operation, which returns animal waste to the land to be used as compost and ensures that Simon's restaurants leave as low a carbon footprint as possible. Ingredients are grown organically and, with harvest to plate often taking place in less than an hour, their quality and freshness is unbeatable. Simon enjoys experimenting with growing unusual and exciting ingredients such as Japanese wineberries, elkhorn fern and buck's-horn plantain to incorporate into his menus.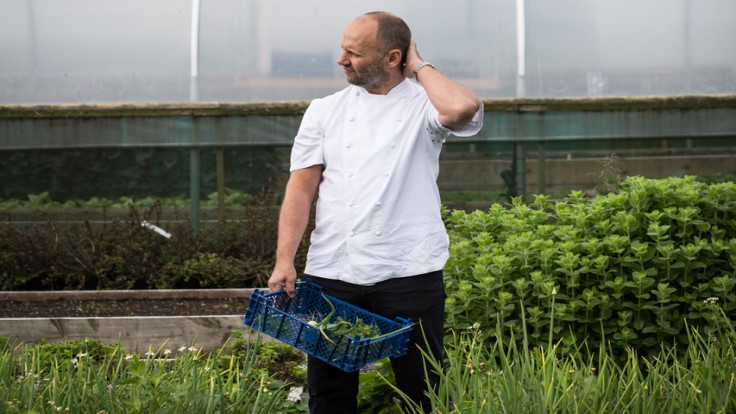 L'Enclume, Cumbria - Simon Rogan
Black Swan at Oldstead, North Yorkshire
One Michelin Star

This characterful pub is owned by the Banks family, who have lived and farmed in North Yorkshire for generations: Tommy heads up the kitchen, while brother James is in charge of front of house. Much of the produce for the pub – and for their second restaurant, Roots, situated in York – is grown on 30 acres of their parents' farm. They also have two acres of growing beds and terraces in the garden adjoining the pub and search out other ingredients by foraging in the hedgerows and woodland in and around Oldstead. The modern menus are very much driven by the seasonal availability of the incredibly fresh produce and the team also like to experiment with different ingredients to find new ways to use and preserve them.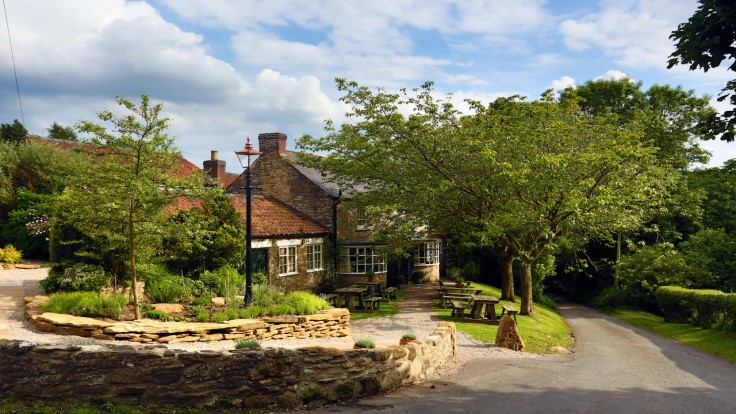 Black Swan at Oldstead, North Yorkshire
Allium at Askham Hall, Cumbria
One Michelin Star

Dishes served in this country kitchen style restaurant, situated in the famous 11C castle, are driven by the seasonal availability of produce from the Lowther Estate in which it sits. Head chef Richard Swale works closely with the gardener, who advises him on which ingredients are at their peak and what should be planted next. Fruits include apples, plums and raspberries; vegetables include beetroot, radishes, carrots and leeks; while wild garlic grows along the banks of the River Lowther. Animals reared here include rare breed pigs, chickens and shorthorn cattle; with deer, rabbits, grouse and pigeons from the woods and moors. Pickled, dried, salted or left to rest in the ground, preserved fruits and vegetables also play a big part on the menu.

Allium at Askham Hall, Cumbria
Moor Hall, Lancashire
Two Michelin Stars

Produce grown in their 5 acre garden leads the menu at this ultra-modern glass-fronted restaurant, with ingredients at their peak skilfully used to create modern dishes with a light touch. Like the original 16C house and the rest of its charming grounds, the walled kitchen garden is a thing of beauty. Head gardener Catherine keeps in contact with chef Mark Birchall to discuss what's growing and what's ready for harvesting; she also runs tours for the general public.

Moor Hall, Lancashire
Belmond Le Manoir aux Quat' Saisons, Oxfordshire
Two Michelin Stars

Legendary French chef Raymond Blanc presides over this iconic restaurant, where beautifully fresh seasonal ingredients from the kitchen garden underpin the skilfully executed classical French cooking. Raymond is passionate about growing his own produce and diners are encouraged to visit the gardens – which contain hundreds of different herbs and vegetables – as well as the 2500-tree orchard, about which Raymond has written a book. Those wishing to gain inspiration for their own allotment or vegetable plot can even attend a gardening course here.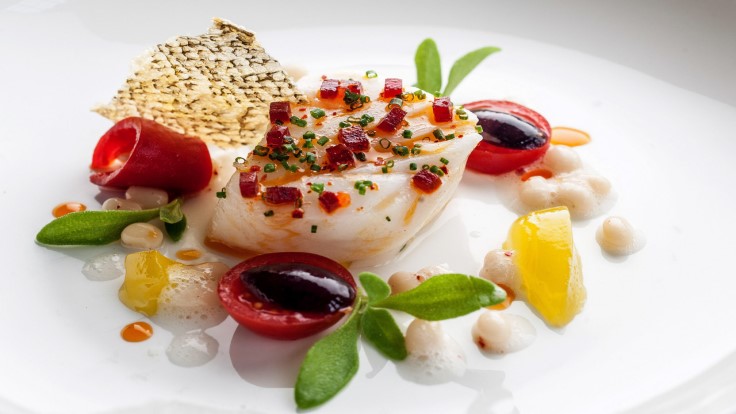 Belmond Le Manoir aux Quat' Saisons, Oxfordshire
The Five Fields, London
One Michelin Star

The Five Fields might be situated in the heart of Chelsea, but its two acre kitchen garden, located two hours away in the East Sussex countryside, is an integral part of the restaurant's ethos. Chef Taylor Bonnyman designs his seasonal menus around the top quality herbs, flowers and vegetables grown on the farm and staff are encouraged to visit, gaining a fuller appreciation and understanding of the ingredients they are working with and where they have come from. Some of the produce is used for staff meals too!

The Five Fields, London
Gravetye Manor, Sussex
One Michelin Star

This quintessentially English country house is surrounded by 35 acres of glorious gardens and was once the home of pioneering gardener William Robinson. The kitchen garden provides the restaurant's heartbeat – if it's not in season, you won't find it on the menu – and experienced chef George Blogg really knows how to get the best out of his produce. Carefully crafted dishes appeal to both the taste buds and the eyes, with their fresh, vibrant flavours and appealingly colourful presentation. Tours of the historic garden are also available.

Gravetye Manor, Sussex
Forest Side, Cumbria
One Michelin Star

The team at the Forest Side have a passion for fresh, local and sustainable ingredients and this Lakeland mansion's one acre kitchen garden – planted with over 100 varieties of vegetables, 25 types of herb, and various micro-greens – plays a large part in the dining experience. They say that 'Forest Side is designed to be a reflection of the landscape in which it sits', and the micro-seasonal menu also features wild ingredients foraged from the surrounding fells, forests and lakes by the chef Paul Leonard and his team.

Forest Side, Cumbria
Interlude, Sussex
One Michelin Star

This intimate, elegant restaurant lies within the historic 240 acre, Grade I listed woodland gardens of Leonardslee Estate; first planted in 1801, now open to the public and famous for their azaleas, rhododendrons, and free roaming deer and wallabies. The ever-changing Interlude menu is guided by what produce is available at any one time in the vegetable gardens and what can be foraged from the woodland; these ingredients are then brought to life in chef Jean Delport's skilfully crafted, highly original dishes.

Interlude, Sussex