Though its population is now comprised of an array of ethnicities, including Hispanics (primarily Puerto Ricans), African-Americans, West Indians and Albanians, the Bronx is still a hotbed for Italian cuisine. Indeed, Arthur Avenue—known to many throughout the boroughs as the "real" Little Italy—is home to many specialty stores and restaurants, as well as The Arthur Avenue Retail Market, an enclosed culinary oasis featuring fresh pasta, homemade sausages and cuts of meat of all kinds, extra-virgin olive oil and various prepared foods.

But Arthur Avenue isn't the only place you'll find impeccable Italian fare—head across the Bronx Zoo and New York Botanical Garden and check out the restaurants of East Bronx and Morris Park. You won't be disappointed.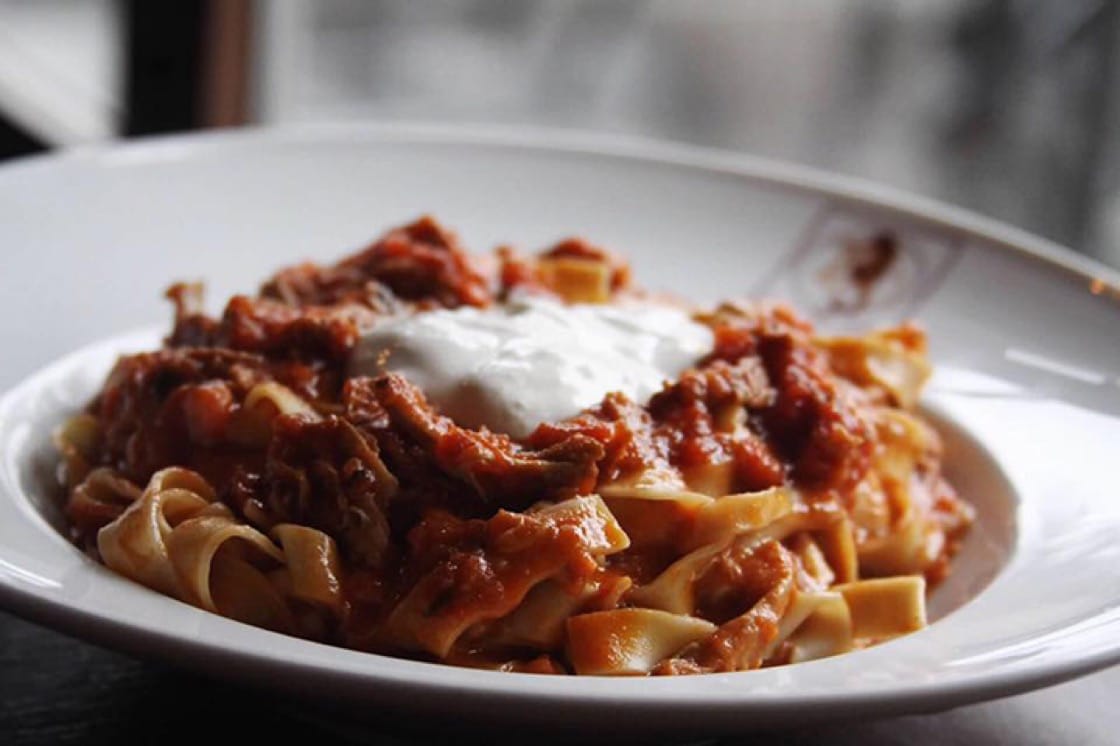 Fettuccine with veal, ragu and straciatella. (Photo courtesy of zero otto nove's Facebook page.)
Designation:
Bib Gourmand
What Our Inspectors Say:
"An icon in its own right, this beloved Italian is located across the way from yet another NY mainstay, namely the Arthur Avenue Retail Market. Brick and cement archways, high ceilings and a second-floor dining terrace strive to keep that oven—and its wares—within each table's line of vision. The menu showcases Salerno-style cooking with pizzas, baked pastas and wood-fired entrées."
Designation:
Bib Gourmand
What Our Inspectors Say:
"Decked out with crimson walls and red-checkered tablecloths, this is the kind of place where diners feel like they're in on a delicious secret—and that's no coincidence, as Tra Di Noi is Italian for "between us." Responsible for the success behind this tiny spot is chef/owner Marco Coletta, who runs the front and back of house with the precision of an air traffic controller and the passion of an Italian
direttore
."
Designation:
The Plate
What Our Inspectors Say:
"Poor little Riverdale—its leafy residential streets may be long on charm but they come up rather short on good food. Thankfully, Beccofino stands apart from the neighborhood's ho-hum standard. In fact, this American-leaning Italian spot has been a local favorite for years—and with good reason. Exposed brick walls, rustic terra-cotta floors and white deli paper-covered tables lend a homey setting, where the specials are handwritten and then tucked inside the regular menu."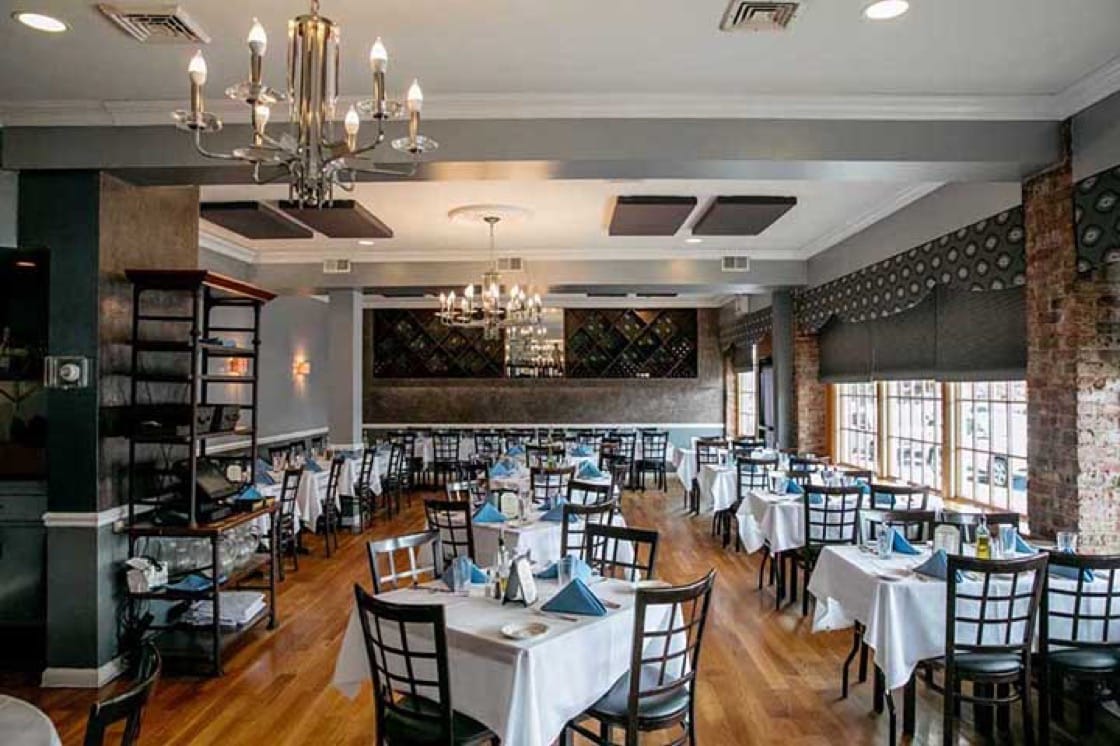 The interior of Bib Gourmand-designated Enzo's. (Photo courtesy of Enzo's.)
Designation:
Bib Gourmand
What Our Inspectors Say:
"Not to be confused with an unrelated spot on Arthur Avenue, this rather polished and airy restaurant has its own distinct personality. Its loyal local following means that weekend waits are to be expected; and the warm aura heightened by spot-on service seems to welcome everyone like family. Inspired by the Italian-American passion for gathering at the table, Enzo's offers the kind of cooking that revolves around long-simmered meat sauces and myriad interpretations of house-made pasta."
Designation:
The Plate
What Our Inspectors Say:
"There is so much to love here, where sharply dressed servers dish up equal parts warmth, hospitality and steaming bowls of scrumptious pasta. The menu leans heavily towards that nostalgic sort of red-sauce, Italian-American cooking that is again finding more and more respect, thanks to mouthwatering dishes like
merluzzo marechiaro
and veal scaloppini. The interior is lovely, which is particularly important since you're in for a bit of a wait (everything is made fresh to order)."
Designation:
The Plate
What Our Inspectors Say:
"Make your way past the front doors of this Bronx beau and enter into one of two wings—either a sprawling and rustic dining room or a welcoming bar that is jam-packed on weekends. You'd be hard-pressed to find a bad word at this longstanding hearty and saucy joint, nestled into thriving Arthur Avenue. Servers whiz by, delivering glistening clams oreganata and tender fish Livornese."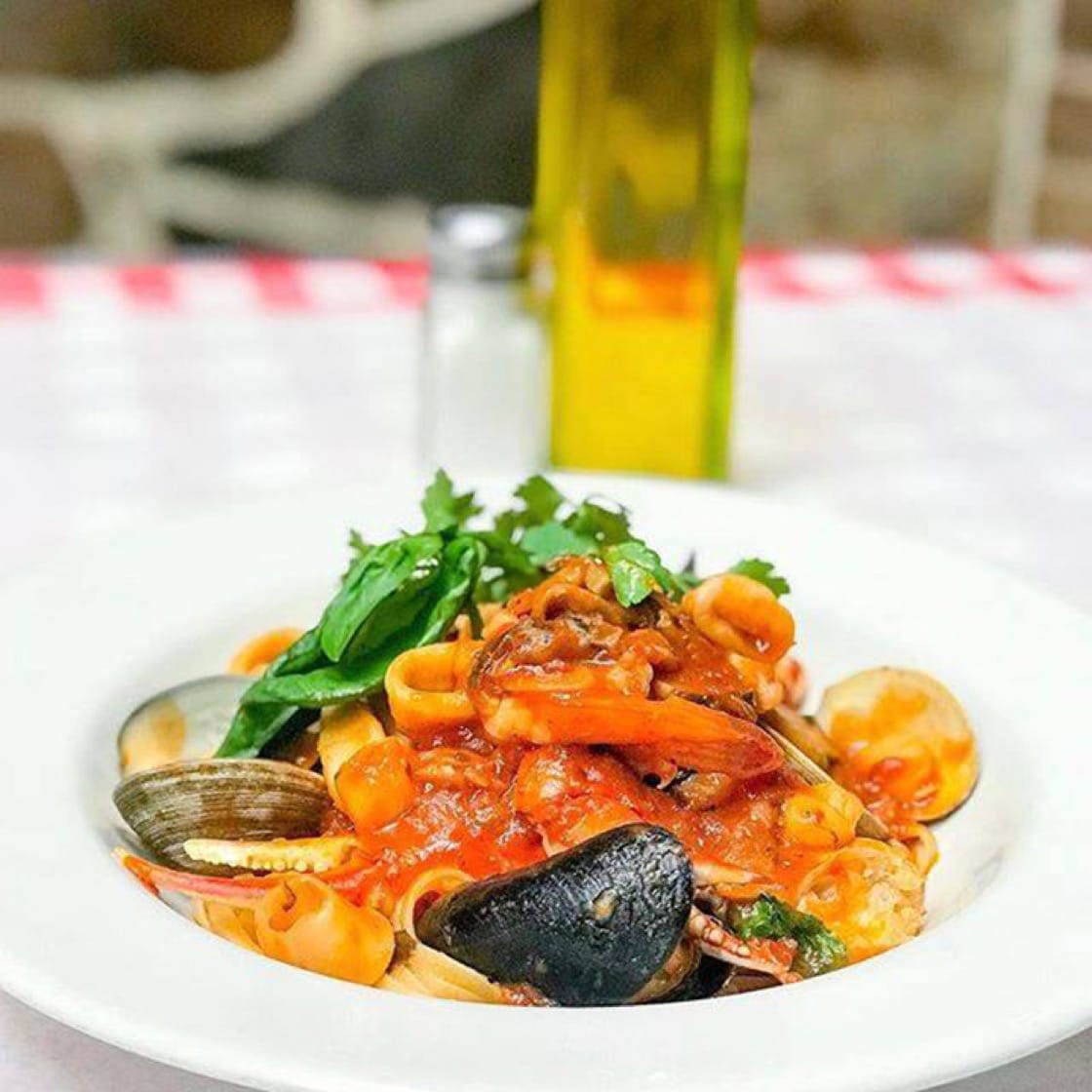 Linguine pescatore at F&J Pine Restaurant. (Photo courtesy of F&J Pine Restaurant's Facebook page.)
Designation:
The Plate
What Our Inspectors Say:
"This institution began as a simple storefront eatery in 1969. These days, Frankie & Johnnie's Tavern (as it is lovingly referred to) covers an entire city block, with a catering hall to boot. Locals, celebrities, Yankees and their fans love to roll in and pull up their sleeves in this large dining room, with a welcoming bar, pizza oven, back garden and brass tags listing luminaries like "Rocco the Jeweler." The Bastone family has been critical to the Bronx food scene for over 50 years now, and it shows through cooking that is as solid as it gets."
Designation:
The Plate
What Our Inspectors Say:
"Much more than a neighborhood staple, Patricia's is an elegant restaurant committed to the convivial spirit of Southern Italy. Its seasonal fare is served in a gracious, brick-lined dining room among white tablecloths, chandeliers and the warmth of a wood-burning oven. That brick oven churns out pleasing pizzas with lightly charred crusts, like the Regina simply adorned with buffalo mozzarella, torn basil and a drizzle of excellent olive oil."
Designation:
The Plate
What Our Inspectors Say:
"You can't miss this storied Italian-American favorite whose design falls somewhere between a cozy farmhouse and Mediterranean villa. In fact, Roberto's bright coral façade lets you know right away there's
allegria
to be had at this highly regarded respite. This space is as ideal for big groups as it is for romantic evenings. Inside, you'll find a cozy, carved-wood bar and generously sized tables lit by candlelight."
Hero image courtesy of zero otto nove's Facebook page.